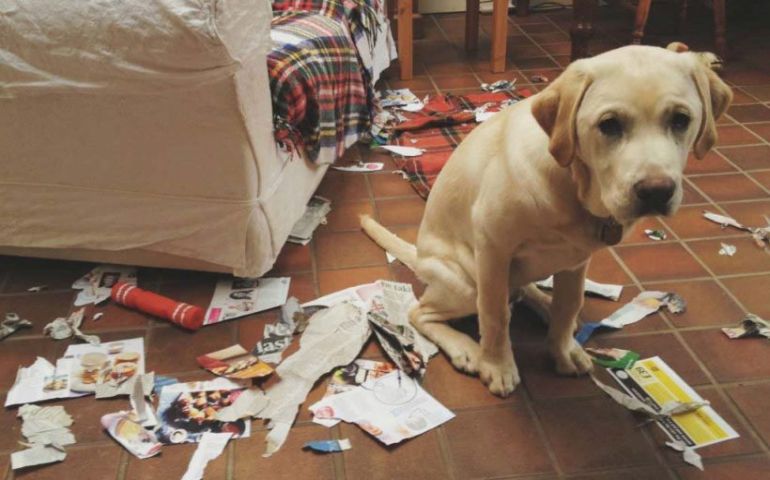 Separation anxiety describes dogs that usually are overly attached or dependent on family members. They become extremely anxious and show distress behaviors such as vocalization, destruction, or house soiling when separated from the owners. It's more than a little whining when you leave or a bit of mischief while you're out. It's a serious condition and one of the main reasons owners get frustrated with their dogs and give them up. But there are plenty of things you can do to help.
First, understand what causes your dog to act this way:
Being left alone for the first time or when he's used to being with people

Change of ownership

Moving from a shelter to a home

Change in family routine or schedule

Loss of a family member
SIGNS OF SEPARATION ANXIETY
A dog who has it shows a lot of stress when he's alone. He might:
Howl, bark, or whine to excess

Have indoor "accidents" even though he's housebroken

Chew things up, dig holes, scratch at windows and doors

Drool, pant, or salivate way more than usual

Pace, often in an obsessive pattern

Try to escape
HOW TO TREAT IT
First, talk to your vet to rule out any medical problems. Sometimes dogs have accidents in the house because of infections or hormone problems or other health conditions. It also could be due to incomplete housebreaking. And some medications can cause accidents. If your dog takes any drugs, ask your vet if they are to blame.
HOW TO PREVENT IT
Separation anxiety might be prevented by ensuring that puppies have scheduled times where they learn to spend time alone in their own crates or beds. Some dogs appear to have separation anxiety but are afraid to be home alone because something bad has happened to them while alone (e.g., storms, fireworks). Dogs that have both separation anxiety and noise or storm phobias will need treatment for both problems.